Service Levels
The PODFather backoffice system runs on servers located in multiple internet datacentres. This means you don't have the expense of running your own server. In addition to The PODFather's own internal monitoring systems, we use Swedish company pingdom.com to measure our uptime and availibility
Every minute, pingdom connects to our five main PODFather services from up to 35 different sites spread across 12 countries. The graphs below show availability as measured by pingdom.com every minute for the last 30 days.
The PODFather backoffice application; inc. job creation, scheduling, POD archive, Invoicing and Tracking modules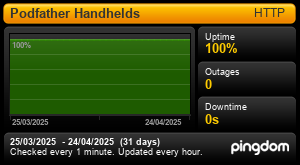 The PODFather handhelds service, which sends jobs to, and receives jobs from driver PDAs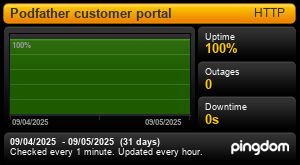 The PODFather customer portal - for end customers to view their own PODs and manage online bookings.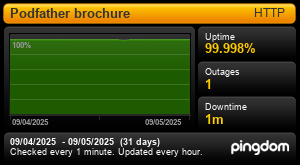 The PODFather brochure website (what you are viewing right now)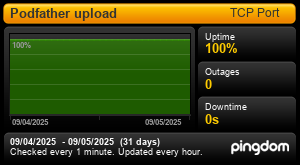 The PODFather upload service, which receives formatted jobs files from integrated customer systems
For futher technical information and status updates, please see: